Careers at nanoscience analytical
Senior Scientist - Materials Science
Nanoscience Analytical is looking to expand its team by hiring a Senior Materials Scientist. The focus of this role is as a team leader for the preparation and analysis of materials utilizing Scanning Electron Microscopy and Surface Analysis Instrumentation. The scientist will utilize a suite of available instrumentation for the preparation of samples, conduct analysis with electron microscopes, and assess surface properties with optical and force tensiometers. Routine interaction with customers and potential customers will require excellent verbal and writing skills, and a friendly, personable demeanor. The ideal candidate for this role will be excited to grow their skill set with Nanoscience Analytical as we expand our laboratory capabilities and offerings.

Leadership of team members in assigned area by providing guidance and expertise to drive projects to success for assigned projects and those of other team members
Leadership of team members in assigned area by providing guidance and expertise to drive projects to success for assigned projects and those of other team members
Serve as an in-house expert and trainer for operation of assigned laboratory equipment
Must be detail-oriented and able to work in an innovative, fast-paced, and team-oriented environment
Critical thinking, problem solving and instrument/experimental method troubleshooting capabilities.
Independent development of technical development plans and design of experiments (DOE) for assigned projects.
Lead projects within the group and manage 2-4 simultaneously assigned projects based on skill level.
Strong technical communications skills. Ability to interpret, communicate, and propose next steps for a project
Lead technical discussions with customers to report project status and answer technical questions.
Ensure all laboratory equipment is operated properly and kept in good working condition
Work with vendors and suppliers to ensure all equipment and materials are operational and workflows are not interrupted
Responsible for on time and accurate reporting of analysis to customers
Engage with customers to determine analytical needs and communicate experimental outcomes
Preparation of written and oral reports summarizing project results
Prepare standard operating procedures for laboratory analysis and equipment operation
Understanding quality management system guidelines and proper implementation of said guidelines
Advanced Degree in Chemistry, Physics, or Engineering with a strong background in Materials Science.
Minimum 4 years INDUSTRY experience with a PhD or 6 years with a MS.
Expertise in electron microscopy techniques including SEM and EDS
Excellent laboratory skills and familiarity with best practices to ensure safety in the workplace
Experience in the preparation and characterization of polymeric and inorganic nanomaterials
Desire to be innovative and versatile working across diversified fields of research
Self-motivated with excellent teamwork and collaboration
Collaborative, team-oriented personality, and acute attention to detail
A desire to own projects and the deliverables with the drive to ensure completion
Good verbal communication, organization, presentation, and technical writing skills
Experience in surface analysis and characterization with a background in QCM-D and AFM a plus
To apply, please email hr@nanoscience.com Please include a cover letter detailing how you are uniquely suited for the open position. A resume without such a cover letter will not be considered. Thank you for your interest in a career with Nanoscience Analytical!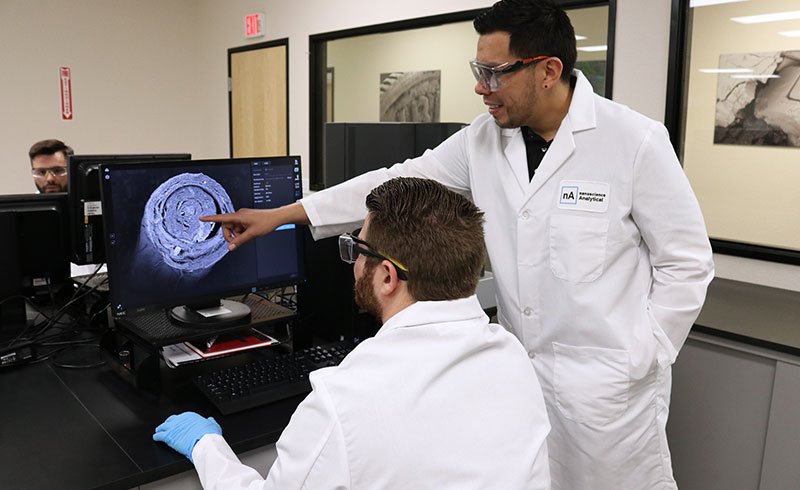 Nanoscience Analytical is a cutting edge laboratory in Phoenix, Arizona committed to quality, transparency, and partnership. Our passion is science. Our mission is to deliver laboratory solutions to accelerate scientific innovation through various techniques. With a diverse team of experts, supported by a rigorous Quality Management System, Nanoscience Analytical provides valuable data and strives to continuously exceed customer expectations.